Leer en Español
"Sexy Summer Camp" is the name of a summer camp in Kentucky, held in 2021, run by progressive activists that offered masturbation classes and lessons on having sex on drugs to people of all ages, including children.
Conservative writer and activist, Christopher F. Rufo, was the first to denounce the content of the repudiable activity on his Twitter account, attaching images and biographies of its directors, lesson plans and even a revealing video of one of the camp's leaders and founders, Tanya Turner.
"These women are running a 'Sexy Summer Camp' for children in rural Kentucky, with lessons on 'sex liberation,' 'gender exploration,' 'BDSM,' 'being a sex worker," 'self-managed abortions,' and "sexual activity while using licit and illicit drugs.'" Rufo wrote, attaching four screenshots.
On the camp agenda, posted by Rufo himself, there is a lesson called "Sex with ME – Self-Pleasure Workshop," which carries the following description: "Participants will explore personal views on self-pleasure, as well as learn techniques to make the most out of their masturbation experience. This workshop will include discussion, games, and some hand on practice (on hands!)"

Another workshop, titled "Sex on Drugs," said participants would "explore the nuances of engaging in sexual activity while using licit and illicit drugs."
Video: Camp founder recommends masturbation to children
Likewise, Rhyen Staley, a researcher with Parents Defending Education, posted an uncomfortable video where founder Tanya Turner recommends masturbation from an early age using her nephews as examples.
"Masturbation is really healthy, and I recommend it to people of all ages. All Ages. As soon as my nephews could talk, they were doing that. Kids touch themselves. Kids start to ask questions and we teach them the language for their bodies, right?" said Turner.
"But my sister doesn't say that when they are touching at their penis, right? But it feels good, right? We have to learn ways to talk to young people about this so they know how to explore their body consensually so it's not in public, right? We don't want people to explore their bodies in public, that's not consensual. But exploring your body at any age, grandmas, grandpas, allof us need to explore our bodies," added one of the Sexy Summer Camp leaders.
In her biography, Tanya Turner defines herself as "a female, fat, queer, magical pleasure worker, educator and artist." She explains that she "was raised in rural Kentucky by a host of witchy women alongside sisters and cousins. A coven-like mountain matriarchy, if you will, on Stoney Fork. Her craft tools are candles, crystals, oils, plants, music, sex toys, tarot, the moon and instincts of a triple water sign."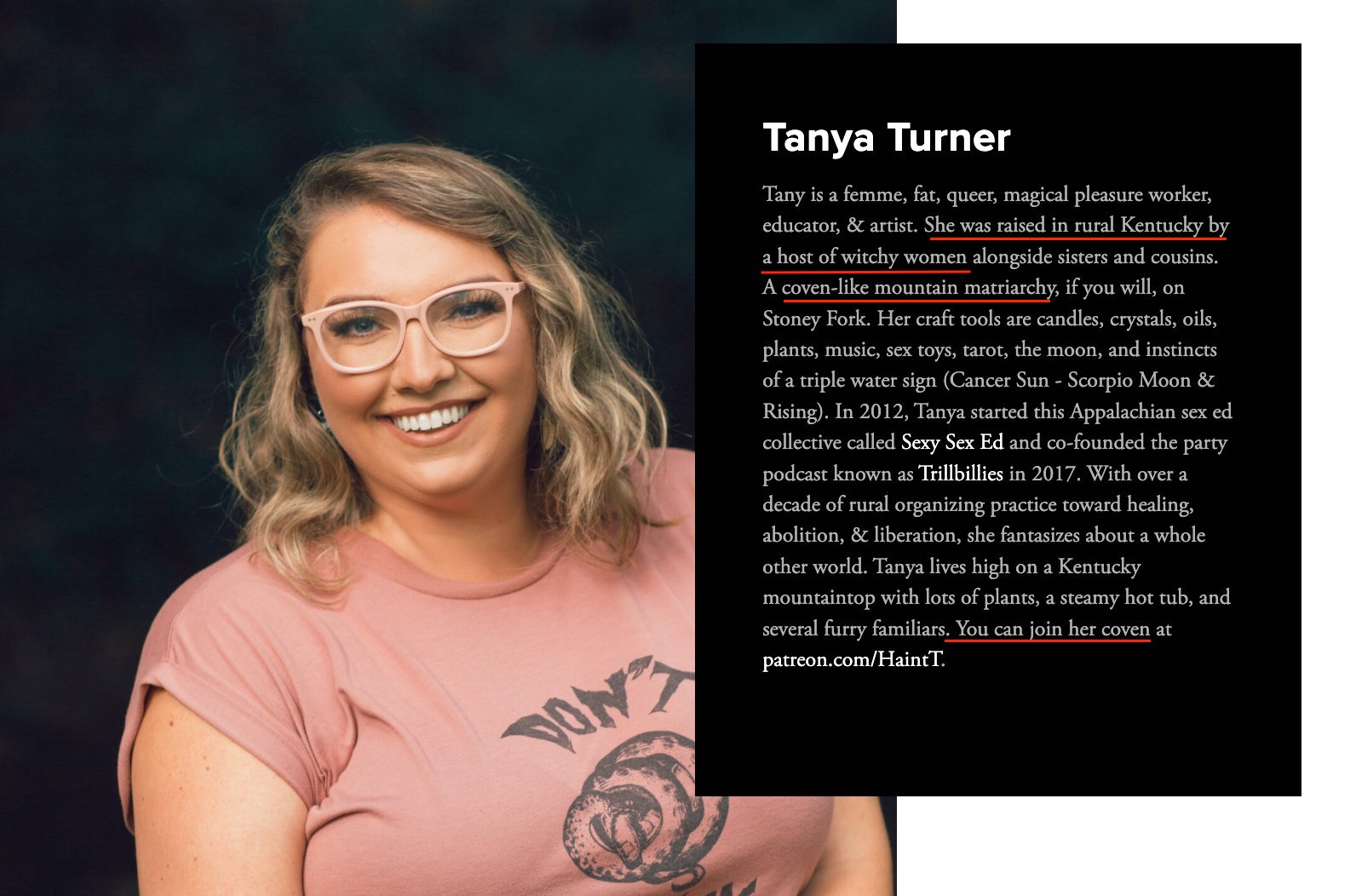 Emmanuel Alejandro Rondón is a journalist at El American specializing in the areas of American politics and media analysis // Emmanuel Alejandro Rondón es periodista de El American especializado en las áreas de política americana y análisis de medios de comunicación.
Contacto: [email protected]