Leer en Español
Renowned tennis player Peng Shuai denounced on Chinese social media a high-ranking CCP official for rape. She disappeared after the publication and now the state media attributes to her an email that increases doubts about her whereabouts. There has been no news of Peng since early November
According to the state media CGTN, Peng Shuai wrote an email explaining that she is not missing or unsafe and that she has only "been resting at home and everything is fine."
The email has not been verified by any reliable source.
The tennis player, according to the email, criticizes the Women's Tennis Association (WTA) for publishing stories about her without her consent and also contradicts her own allegations against Zhang Gaoli, the former Chinese Vice Premier whom she accused of sexual assault.
"The news in that release, including the allegation of sexual assault, is not true," the email reads. "If the WTA publishes any more news about me, please verify it with me, and release it with my consent. As a professional tennis player, I thank you all for your companionship and consideration."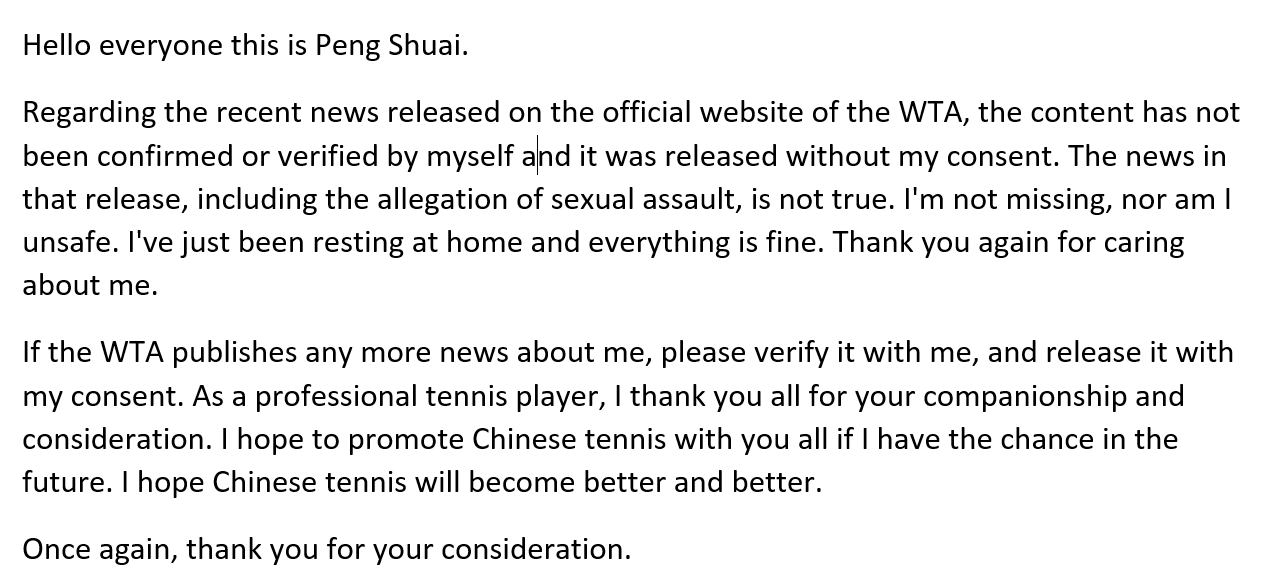 WTA says it does not recognize Peng Shuai's alleged email
The email shown by CGTN, which was published this Thursday, was not acknowledged by WTA director Steve Simon, who said that he did not believe the email was written by Peng and that the whole situation only further increases his concerns about the tennis player.
"Peng Shuai displayed incredible courage in describing an allegation of sexual assault against a former top official in the Chinese government. The WTA and the rest of the world need independent and verifiable proof that she is safe. I have repeatedly tried to reach her via numerous forms of communication, to no avail," Simon continued and called for a transparent investigation into the sexual allegation, adding: "Peng Shuai should be allowed to speak freely, without coercion or intimidation from any source."
The details and solidarity behind Peng Shuai's complaint
According to CNN, Peng accused former Vice Premier Gaoli of "coercing her to have sex at his home three years ago, according to screenshots of a now-deleted social media post dated Nov. 2."
CNN reported that the tennis player's post was deleted from Weibo "within 30 minutes of its publication, and Chinese censors were quick to remove any mention of the accusation online."
The tennis world reacted in favor of the Chinese tennis player as the days of the accusation and her subsequent disappearance passed.
After Shuai's alleged post was published, Swiss tennis player Stanislas Wawrinka posted a tweet with an image of Peng.
Likewise, world number one Novak Djokovic said he was shocked by Peng's disappearance: "There's not much more to say than hope she's okay and that it's just terrible," the Serb said. "I can imagine how her family feels, you know, about her disappearance."
Emmanuel Alejandro Rondón is a journalist at El American specializing in the areas of American politics and media analysis // Emmanuel Alejandro Rondón es periodista de El American especializado en las áreas de política americana y análisis de medios de comunicación.
Contacto: [email protected]