Leer en Español
While organized crime, contract killings and drug trafficking are growing worryingly in Paraguay, a prosecutor from this country was at the forefront of several successful cases to combat criminal organizations that trafficked drugs within Paraguayan territory and sent cocaine to Europe and Africa: Marcelo Pecci, who was murdered on May 10 in Colombia.
Pecci was living, perhaps, one of the best moments of his life: he was enjoying his honeymoon in the Colombian Caribbean, specifically in the Baru Peninsula, Cartagena, with his wife, journalist Claudia Aguilera, who hours earlier had published a photo on social media celebrating her pregnancy. But from one moment to the next, two assassins burst in on a jet ski opening fire on him and killing him with three shots.
The Colombian press said that a total of three people were involved in the attack. The hitman who shot Marcelo Pecci, the driver of the jet ski and a third accomplice on the shore. Aguilera, his widow, was unharmed in the attack.
General Jorge Luis Vargas Valencia, director of Colombia's National Police, published a picture of one of those involved in Pecci's murder on his Twitter account on Wednesday, offering a reward of 2 billion pesos (about US$480,000) for help in identifying the suspect.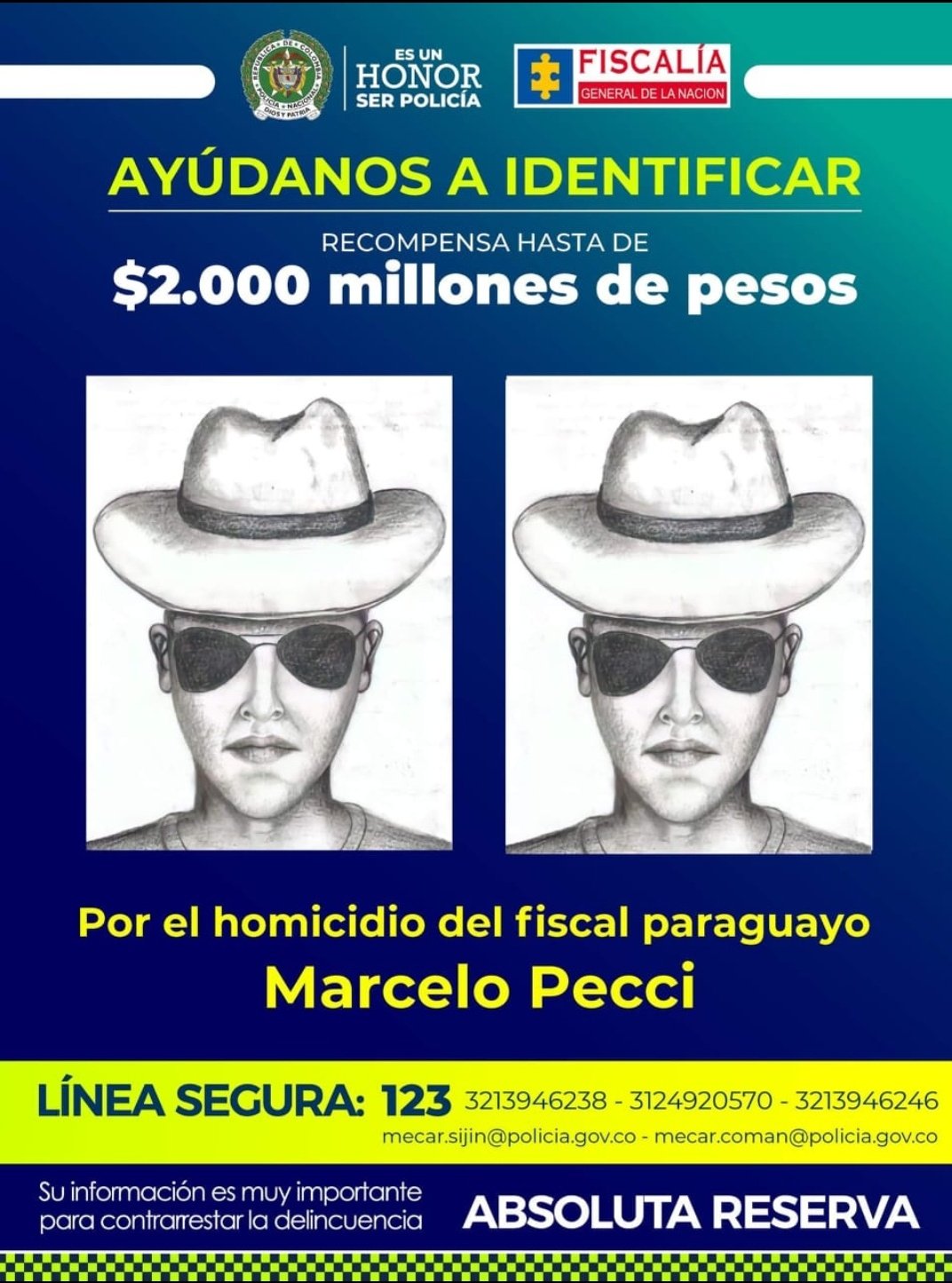 General Vargas also commented that they had no information that the Paraguayan prosecutor was on Colombian soil. Otherwise, they would have executed a specific security protocol for these cases.
Who was Marcelo Pecci and why is he so important?
Marcelo Pecci was not just any official. He was, in fact, one of the most recognized prosecutors in Paraguay for his fight against crime.
He had been in public service for two decades. He specialized in Organized Crime, Drug Trafficking, Money Laundering, Financing of Terrorism and was in charge of the historic operation "A Ultranza PY," among other renowned cases in that country. Therefore, the main hypothesis is that Pecci was an unequivocal target of transnational crime.
According to statements made by Colombian journalist Juan Carlos Giraldo to Paraguayan newspaper ABC Color, investigators believe that the perpetrators of the murder had been following Pecci from Paraguay.
A close friend of prosecutor Pecci, former congressman Sebastián Acha, said that the victim worked directly with the DEA and also had bodyguards.
"Marcelo was killed because of what he knew, he knew many things and I don't know if he has a backup with everything he knew, that is what worries me the most. It's not just that a prosecutor died, here they cut off an arm of the Judiciary," he told ABC TV.
According to the newspaper La Nacion, one of Paraguay's largest media outlets, Marcelo Pecci handled cases closely linked to contract killings, drug trafficking and terrorism.
One of his most famous cases was the attack in the city of San Bernardino, near the capital Asuncion, where a hitman killed model and influencer Cristina "Vita" Aranda and drug trafficker Marcos Ignacio Rojas Mora, who may have been executed for a drug debt, according to Sergio Insfran, the head of the Paraguayan National Police's Department for the Fight against Organized Crime.
Pecci was also leading the mega-operation "A Ultranza PY," the largest anti-drug operation in Paraguay's history, which involves the participation of the US Drug Enforcement Administration (DEA), the European Union Police (Europol) and the anti-drug institutions of Uruguay (Dgrtid) and Paraguay (Senad), in coordination with the Paraguayan Public Ministry.
A Ultranza began on February 22 and achieved great results: more than 100 simultaneous raids, seized assets for $100,000,000, including 71 properties, 10 airplanes, 27 luxury vehicles, 48 motorcycles, 30 trucks, 41 tractors, 7 boats, 5,000 cattle and 9 agricultural machinery; more than a dozen people arrested and 25 people charged.
The operation dismantled a criminal structure under investigation since 2019 that transported cocaine from Bolivia to Paraguay and then sent it to Europe through agricultural shipments. Said structure is directly linked to the seizure of three loads of cocaine in Europe, divided into 1,131 kilos and 10,946 kilos headed to Belgium and 4,174 kilos sent to Holland. It was also linked to more than 4,000 kilos of cocaine seized in Paraguay "and a scheme for the acquisition of goods and real estate, and the setup of companies for money laundering in the country," according to the Paraguayan Information Agency.
Pecci is also known for having led cases such as that of Lebanese citizen Nader Mohamad Farhad, who carried two extradition requests from the states and ended up being captured and sent to that country on money laundering charges, thanks to an undercover agent who gave him $250,000 in cash.
He was also in charge of the historic operation "Zootopia," carried out in 2017, which resulted in the seizure of 500 kilos of cocaine and the dismantling of the largest Brazilian criminal organization First Capital Command (PCC) in Paraguay.
The renowned prosecutor has also handled several hitman cases and was in charge of the curious and famous case of soccer star Ronaldinho, who was arrested in Paraguay in 2020 on charges of document forgery.
Connections with Colombia and "pastoral-politics"
After the murder of Marcelo Pecci, the newspaper La Nación recalled that the A Ultranza operation was linked to a criminal clan connected to Cololmbia.
"Last March, Pecci headed 12 raids, from which emerged seizures of real estate, vehicles, airplanes, boats and multiple assets belonging to organized crime gangs. In these raids, the weight of the clan led by Miguel Angel Insfran (alias Tio Rico) and his brother Jose Insfran, who served as a pastor and was a frequent visitor to sister 'churches' in Colombia, came to light," the newspaper reported.
After the Insfran's arrest was ordered, one of "Tío Rico's" cooks, Fatima Rejala, was killed for being "disloyal" and collaborating with the police. Pecci himself, weeks later, announced the arrest of Wilson Adán Pereira Suárez, who was one of Rejala's killers.
According to La Nación, José Insfrán built the multimillion-dollar Centro de Convenciones Avivamiento, a model temple in the city Curuguaty, more than 200 kilometers from Asunción.
"The means of transfer of the 'religious' in communities in the region was by helicopter. The Revival temple in the city of Canindeyuense had 18 air-conditioned buses to transport parishioners," the report explains. "Testimonies of locals, confirmed by the Prosecutor's Office, state that citizens from Colombia frequently arrived, presenting themselves as pastors of the Revival church. All the foreigners arrived and returned in their own planes."
One of those accused by Paraguayan prosecutors of leading a drug gang operating with drugs coming from Colombia and Bolivia is former national deputy Juan Carlos Ozorio, who was an honorary member of the Revival congregation in Paraguay.
Marcelo Pecci's death is a blow to the United States
The murder of the prosecutor is a major blow dealt by organized crime in South America that directly impacts the State Department, the DEA and U.S. officials who worked directly with Marcelo Pecci.
Brian Nichols, Assistant Secretary of State for Western Hemisphere Affairs, was among the officials who criticized the assassination of prosecutor Pecci.
Juan Roberto Vargas, news director of Caracol TV, commented to Radio Monumental 1080 AM that Pecci "was very dear" to the American authorities who were hit by "a bucket of cold water" when they learned of the murder.
In Paraguay, the attack against Pecci has a strong impact, as the country has been affected by several cases of hired killings in recent months in the midst of a fierce fight against organized crime.
"The cowardly murder of prosecutor Marcelo Pecci in Colombia shocks the entire Paraguayan nation. We condemn in the strongest terms this tragic act and redouble our commitment to the fight against organized crime. Our sincere condolences to his family," tweeted President Mario Abdo Benítez.
Emmanuel Alejandro Rondón is a journalist at El American specializing in the areas of American politics and media analysis // Emmanuel Alejandro Rondón es periodista de El American especializado en las áreas de política americana y análisis de medios de comunicación.
Contacto: [email protected]