Leer en Español
Enes Kanter launched new sneaker models with which he strongly criticizes the double standard of basketball star LeBron James.
The Boston Celtics player posted on his Twitter account four images of sneakers that allude to the silence of "King" James in the face of the atrocities perpetrated by the Chinese communist regime. One of the sneakers shows James kneeling before Chinese President Xi Jinping, who crowns the basketball player with several bags of money on his back.
In the tweet, Kanter wrote that money is "over morals" for LeBron and also mentioned that it is "sad and disgusting how these athletes pretend they care about social justice."
Kanter further said that these athletes — like James — "shut up and dribble" when China says so and also dropped the following question to the Lakers star, "Did you educate yourself about the slave labor that made your shoes or is that not part of your research?"
In another image, James is seen hugging a bag of money while holding a crown engraved with the word "Silence" on his head. Behind his back, there is a drawing depicting demonstrations and repression. Also, in one picture, a blue mask representing the Uyghur ethnic minority, a community that is being systematically persecuted and suffering genocide at the hands of the Chinese regime, is accompanied by the phrase "I am informed and educated on the situation."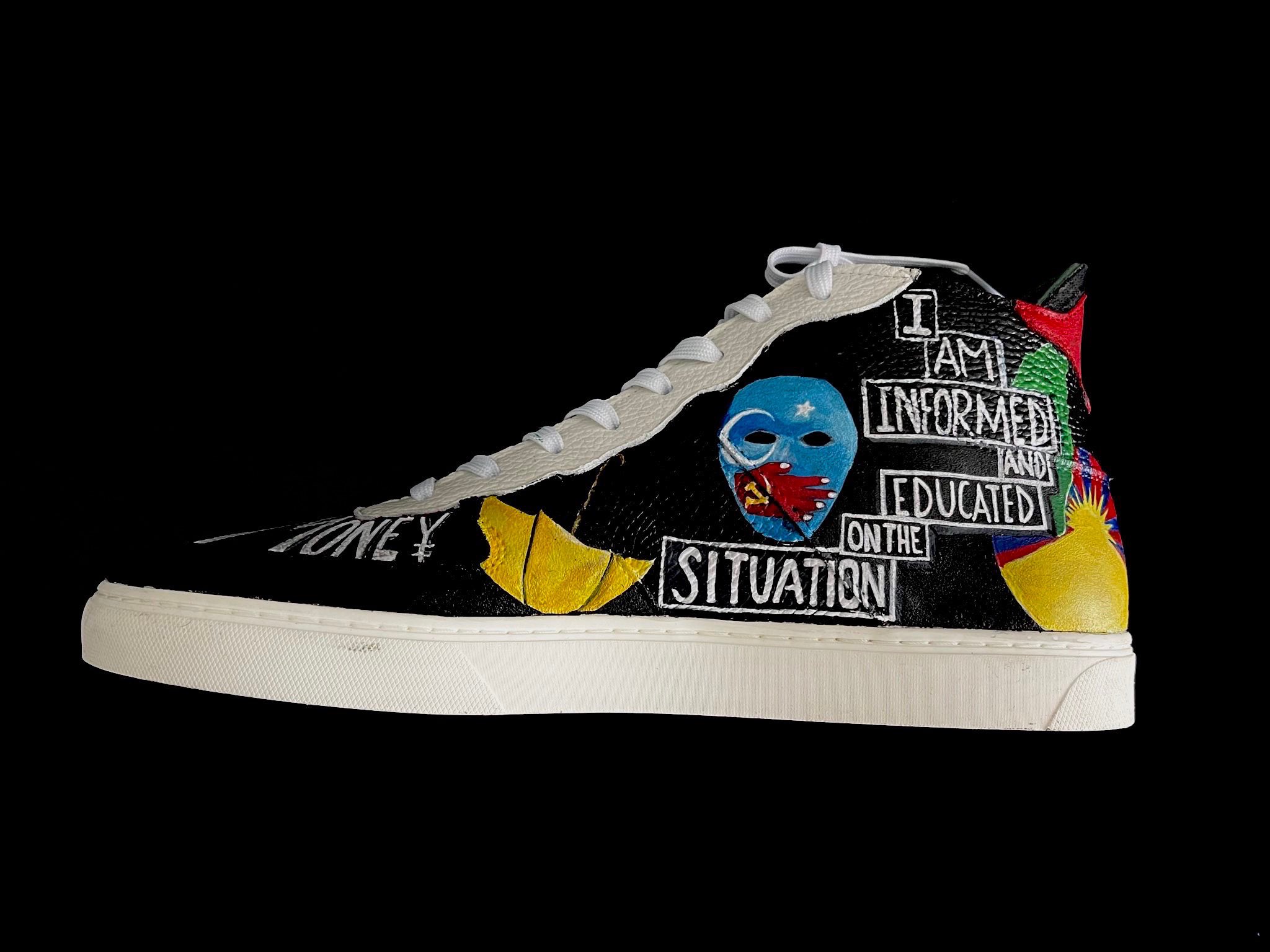 The message on that sneaker recalls the conflict between LeBron James and Daryl Morey, now president of the Philadelphia 76ers, who was criticized by James when he came out in defense of Hong Kong protesters, causing a Chinese boycott of the NBA.
Instead of expressing his support for the Hong Kongers and backing Morey's words, James criticized the leader generating a lot of finger-pointing against him. "I don't want to get into a word or sentence feud with Daryl Morey, but I believe he wasn't educated on the situation at hand, and he spoke. I believe he was either misinformed or not really educated on the situation, and if he was, then so be it," LeBron said of Morey's pro-democracy message.
The Lakers player is a figure that causes a lot of controversies whenever he speaks out on sociopolitical issues, becoming a BLM and anti-cop activis.
Emmanuel Alejandro Rondón is a journalist at El American specializing in the areas of American politics and media analysis // Emmanuel Alejandro Rondón es periodista de El American especializado en las áreas de política americana y análisis de medios de comunicación.
Contacto: emmanuel.rondon@elamerican.com