It has been more than two weeks since Vladimir Putin ordered the Russian Invasion of Ukraine. Bombings have continued all across the Slavic country, where civilians have taken up arms to defend their country along with their army.
The Russian forces, despite having a slow advance due to stiff Ukrainian resistance, have started to take key cities that would allow them to attack Kyiv from many fronts. Kherson was one of the latest to fall, and now Russian attacks are growing in Odesa and Mariupol. Meanwhile, Kyiv and Kharkiv, the two most important cities of the country, remain in Ukrainian hands.
While Rusia intensifies its attacks, damaging not only military but also civilian infrastructure, causing the deaths of thousands, including civilians and kids, both parties have already started two rounds of peace talks without many advances. The only thing either party has agreed is an "understanding" of both parties to create humanitarian corridors where civilians can evacuate Kyiv. If this is implemented, a temporary ceasefire would be declared.
Western countries have maintained their support to Ukraine, albeit it appears it will be insufficient to stop the Russian advance. The economic sanctions, although harsh, will lose their strength if they do not target Russia's energy and gas sectors, of which Europe remains dependent. On the other hand, the sale of arms to Ukraine intensifies, but its advance is slow. NATO has refused to aid Ukraine with troops or by establishing a no-fly zone in Ukraine to avoid an escalation of the conflict with Russia.
The Russian invasion to Ukraine, minute by minute
11:38 AM (ET) March 11: According to Sputnik, Russia has begun working with Turkey to deliver basic supplies
11:15 AM (ET) March 11: Russian troops have killed 1,582 civilians in Mariupol since the invasion began.
11:00 AM (ET) March 11: Joe Biden announces new sanctions against Russia, targets oligarchs.
9:00 AM (ET) March 11: The Ukrainian president Volodimir Zelensky talked to president Biden: "We agreed on further steps to support the defense of Ukraine and increase sanctions against Russia."
7:08 PM (ET) March 10: Ukraine has informed the IAEA that it has "lost today all communications with the Chernobyl Nuclear Power Plant"
4:00 PM (ET) March 10: Zelensky says "we are very worried" over Russian accusations that Ukraine is planning to launch chemical attacks, as Russians have repeatedly accused others of what they eventually do.
2:30 PM (ET) March 10: Germany refuses to send polish fighter jets through American bases in Germany and says it looks for a "diplomatic solution" with Russia.
2:00 PM (ET) March 10: Facebook and Instagram modified their rules in some countries, allowing users to make calls for violence against Russian soldiers or leaders.
11:30 AM (ET) March 10: Ukrainian Defense Minister, Oleksiy Reznikov, says that "Russian forces have killed more civilians than Ukrainian service personnel"
11:00 AM (ET) March 10: United Nations says there are more than 2.3 million Ukrainian refugees, including more than 1 million kids.
10:30 AM (ET) March 10: Ukrainian President Volodimir Zelensky signed a law allowing the seizure of Russian properties in the country.
10:00 AM (ET) March 10: Local authorities of Mariupol bury the dead from the Russian invasion in a mass grave.
9:30 AM (ET) March 10: At least 71 kids have died since the start of the Russian invasion
9:00 AM (ET) March 10 : The Ukrainian security service warns that Russia might blow up ammonia warehouse in Kharkiv and blame Ukrainian Armed Forces
6:25 PM (ET) March 9: American and British fear that Russia might be willing to use chemical weapons in Ukraine.
4:17 PM (ET) March 9: The United States will not send Polish MiG-29 fighter jets to Ukraine, says the move would be "high risk."
12:05 PM (ET) March 9: The United Kingdom will send the world's most advanced anti aerial system to Ukraine, the British Defence Secretary Ben Wallace announced.
11:30 AM (ET) March 9: Zelensky condemns the Russian attack against the children's hospital of Mariupol.
11:07 AM (ET) March 9: Ukraine says is willing to abandon its wishes to become a member of NATO, if Russia stops its invasion.
According to Ihor Zhovka, an advisor for President Zelensky, explained in remarks to the German public TV ARD, the country could take a stance of neutrality as long as the sovereignty of the country is respected and Russia stops the invasion.
11:01 AM (ET) March 9: Russian forces bomb the children's hospital of Mariupol. Footage shows the almost complete destruction of the building. Patients are still being evacuated. There is no report yet of casualties.
10:25 AM (ET) March 9: The European Union has agreed on new sanctions against "Russian oligarchs" and will disconnect three Belarussian banks from SWIFT
10:23 AM (ET) March 9: Ukrainian Armed Forces denounce that the Russian National Guard has entered Kherson and illegally imprisoned more than 400 Ukrainian citizens
9:39 AM (ET) March 9: Supercell announces it will remove all its games from app stores in Belarus and Russia
2:08 PM (ET) March 8: Poland will donate its entire MIG-29 fighter jet fleet to the United States, in exchange for U.S. planes. This makes the transfer of fighter jets to Ukraine more likely.
12:29 PM (ET) March 8: The UK Ministry of Defence estimates that more than 2 million refugees have been forced out of their homes. The British also say the UN is probably underestimating the true number of civilian casualties.
11:20 AM (ET) March 8: Ukrainian officials affirmed that six people, including three kids, died due to the explosion of an anti-personnel mine in a road in the north of Kyiv.
10:54 AM (ET) March 8: Zelensky says that the West has thirteen days of unfulfilled promises
"We've been hearing promises for thirteen days, you have been saying you will help us in the skies, that there will be planes, that you will give them to us for thirteen days." said the Ukrainian President Zelensky in a new video message published in his Telegram account.
The President said that "the one to blame for every death, every person in Ukraine who suffers air attacks and blocked cities is, of course, the Russian state, the Russian army" however, he also pointed out that "the responsibility of this also falls upon those who, somewhere in the West, during thirteen days in an office, have obviously not taken a necessary decision"
With information from EFE
10:50 AM (ET) March 8: The Pentagon thinks that 2,000-4,000 Russian soldiers have died in the invasion of Ukraine.
9:45 AM (ET) March 8: Ukraine claims this Tuesday that Russian forces have not only slowed down considerably but have completely stopped in some areas, according to Presidential Advisor Oleksiy Arestovych.
9:10 AM (ET) March 8: The UN estimates over two million Ukrainian refugees have fled the country
Last Sunday, when there were 1.5 million refugees, the UNHCR described the exodus as the refugee crisis with the fastest growth in Europe since the Second World War.
8:30 AM (ET) March 8: The most important updates of the night of March 7 and the early moring of 8 of March
Is 3:30 PM in Ukraine and Russian bombs are still targeting civilian and military infrastructure. Ukraine is withstanding, as best as it can, the Russian attack, which is becoming more intense.
According to the Institute for the Study of War, Russian forces are concentrating near Kyiv by the east, northeast, and west to launch an assault on the Ukrainian capital in the next 24-72 hours. The two largest cities of Ukraine (Kyiv and Kharkiv) are under the control of the Ukrainian army. Mariupol is under dispute.
According to local media, Russian forces launched a heavy hit in Mykolaiv, targeting a military unit with a cruise missile, provoking the death of eight soldiers, 19 injuries and many missed in action. According to American officials, Russia has launched 625 missiles against Ukraine since the beginning of the invasion.
The General Directory of Intelligence of the Ukrainian Ministry of Defense said the Ukrainian army killed the Russian Major General Vitaly Gerasimov near Kharkiv. "Gerasimov was a high ranking military official who participated in the Second Chechen War and received a medal for the capture of Crimea" informed the Kyiv Independent. Russia has yet to confirm the death of the major general.
6:00 PM (ET) March 7: Ukrainian President Volodymir Zelensky posts video in his office in Kyiv: "I am not afraid of anybody."
3:53 PM (ET) March 7: The Red Cross claims that the Mariupol humanitarian corridor was filled with landmines.
2:29 PM (ET) March 7: The United States is willing to prohibit Russian oil imports without the participation of European allies, according to Reuters
2:00 PM (ET) March 7: The third round of negotiations between Russia and Ukraine did not meet the expectations of Moscow, according to Russian delegate Vladimir Medinsky.
1:00 PM (ET) March 7: The global employment platform Upwork will stop operating in Russia and Belarus.
12:30 PM (ET) March 7: The president of Ukraine, Volodimir Zelenski will make a "historic speech" to Ukrainian members of Parliament tomorrow at 5 PM (local time)
11:47 AM (ET) March 7: Germany rules out an embargo on Russian oil imports. German Chancellor Scholz says that he's "preferring to focus on sustainable pressure on Moscow that would not impose too heavy a burden on Germans."
11:19 AM (ET) March 7: The EU begins the candidacy examination of Ukraine, Georiga, and Moldova
11:12 AM (ET) March 7: Ukrainian Foreign Ministry denounces that the Israeli airline El Al keeps accepting payments from the Russian banking system "mir", which he accused of having been designed to evade sanctions.
11:06 AM (ET) March 7: United Nations reports 1,207 civilian casualties from the war, with 406 dead and 801 wounded.
11:02 AM (ET) March 7: State Emergency Service, at least 13 civilians dead after an airstrike on a bread factory in the Kyiv Oblast
10:09 AM (ET) March 7: The third round of peace negotiations between Ukraine and Russia begins in Belarus.
9:51 AM (ET) March 7: Ukrainian forces have retaken control of the Mykolaiv airport, according to the regional governor Vitaliy Kim
9:43 AM (ET) March 7: The Minister of Foreign Relations of Ukraine, Dmytro Kuleba asks for "more severe sanctions on Russia; more weapons, including combat aircraft and air defense for Ukraine."
9:35 AM (ET) March 7: Putin is accused of planning a "mass kidnapping" as he would only allow humanitarian corridors for Ukrainians to escape to Russia or Belarus.
9:28 AM (ET) March 7: Russia promises an "immediate" ceasefire if Ukraine cedes Crimea and recognizes the independence of Donetsk and Lugansk.
6:05 PM (ET), March 4: Is reported that Russian forces have made advances to the outskirts of East Kyiv
According to an update from the Institute for the Study of War, the Russian forces "continue their focus on encircling Kyiv" and that although "the western envelopment remains bogged down" some Russian soldiers "have moved more rapidly from the east and are arriving in the capital's outskirts on the Sumy axis."
The report explains that is likely this advance will slow down when "Russian forces leave sparsely-inhabited and flat terrain and enter the more congested and built-up eastern suburbs."
5:30 PM (ET), March 4: Ukrainian Armed forces accuse Russia of using cluster bombs in the city of Pokrovsk. The Kremlin denies the use of these bombs, which could constitute a war crime according to Amnesty International
5:10 PM (ET): CNN will stop broadcasting in Russia
According to a report from Reuters, the American news channel will stop broadcasting in Russia "after the introduction of a new law there that could jail anyone intentionally spreading "fake" news."
12:50 PM (ET) March 4: Ursula Von der Leyen, president of the European Commission, says that the EU is willing to impose more sanctions if Russia does not stop the war.
12:30 PM (ET) March 4: The UN says that "military operations near nuclear sites are not only unacceptable but highly irresponsible."
This Friday, after Russian forces attacked the Nuclear Power plant of Zaporizhzhia (a claim the Russians have denied), the United Nations held an emergency meeting to address military operations near nuclear reactors.
At the meeting, Rosemary DiCarlo, Adjunct General Secretary of Political Affairs of the UN said: "We understand that the fire affected a training facility and not the cooling system or the power system. Military operations around nuclear sites and other critical civilian infrastructure are not only unacceptable but highly irresponsible. Ukraine knows only too well the devastation of a deadly nuclear accident. The Chernobyl disaster in1986 stands as a lasting example of why it is vital to ensure all nuclear power plants have the highest standards of safety and security. Every effort should be taken to avoid a catastrophic nuclear incident."
12:10 PM (ET) March 4: Despite the images and videos coming from Ukraine, Putin denies the bombing of Ukrainian cities in a call with the German Chancellor calling the images "gross propaganda fakes."
12:01 PM (ET) March 4: British Intelligence says that the Russian column near Kyiv has not made significant advances in the last four days.
The British Ministry of Defence has released daily updates on the Russian invasion of Ukraine.
11:45 AM (ET) March 4: Russian Senator, Lyudmila Narusova, admitted that the Russian army is sustaining heavy casualties in Ukraine: "From a company of one hundred men, only four were left alive."
11:27 AM (ET) March 4: CNN reports that the Russian President, Vladimir Putin, told German chancellor Olaf Scholz, that there will be a new round of peace talks between Russia and Ukraine this weekend.
11:23 AM (ET) March 4: Microsoft announces the suspension of their services in Russia
11:19 AM (ET) March 4: Ukrainian authorities report that the Russian invasion has left 28 children killed, 68 wounded
11:10 AM (ET) March 4: A Russian Sukhoi Su-34 combat jet has been shut down near the city of Volnovakha in easter Ukraine, according to reports.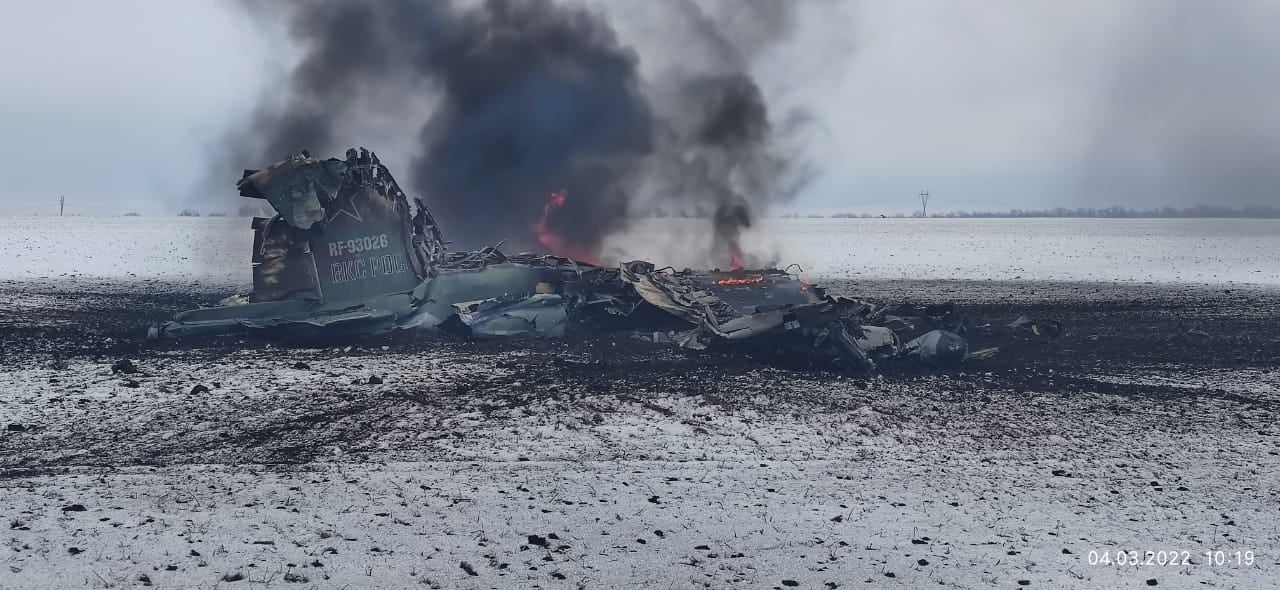 11:05 AM (ET) March 4: Earlier today, the Lithuanian President said Ukraine needs to be helped at creating an anti-aerial defense system
10:58 AM (ET) March 4: The NATO Secretary confirms that Russia has used cluster bombs in Ukraine
10:30 AM (ET) March 4: The Ukrainian Minister of Foreign Affairs participated in an extraordinary NATO meeting.
10:00 AM (ET), March 4: the most important events over the last few hours: Russia attacked the most important nuclear power plant of Europe but, at the moment, there is no risk of nuclear disaster.
Yesterday night, the world held its breath after the Russian attacks against the Zaporizhzhia nuclear power plant, the biggest in Europe. At first, Ukrainian authorities made warnings over the risks of a possible nuclear disaster as a fire raged inside the plant. However, a few hours later, the risk was dismissed and the possibility of a "new Chernobyl" in Ukraine was dispelled.