Leer en Español
Nicholas Confessore, The New York Times reporter who wrote a series of articles against Fox News host Tucker Carlson, must not be too happy about how this series is ending. The Times team that decided to watch and analyze more than 1,100 episodes of Tucker Carlson Tonight — an act that even the biggest Tucker fan wouldn't be willing to do — isn't either.
Confessore devoted 20,000 words to Tucker Carlson to "reveal" (note the quotation marks) that the Fox News host is a "racist," a propagator of "conspiracy theories" and a "mass manipulator" who uses specific words, phrases and narratives to further influence his audience. In other words, they watched over a thousand episodes of Tucker Carlson Tonight to, in short, once again brand the most-watched and influential man in the U.S. as a racist.
This is not the first time, nor will it be the last, that the Times has called Tucker, who is the new target of the mainstream media in the wake of Trump's departure from the White House, a racist. The finger-pointing that Trump has subjected to, has now gone straight to Fox's most important host, who should be very grateful, since the media hit has done nothing but continue to grow and popularity of his show.
Confessore's articles, and the Times' work in general, however, are indeed remarkable, because they tacitly admit that they have an obsession with Tucker Carlson Tonight (it's the only way anyone watches a thousand episodes of Tucker, honestly), as well as acknowledging it as "the most successful show" in their first paragraph:
"Night after night on Fox, Tucker Carlson weaponizes his viewers' fears and grievances to create what may be the most racist show in the history of cable news. It is also, by some measures, the most successful."
I don't know if the Times realized what it did. But from the outside, it looks like this: they devoted a very long report to the most important program in the United States to attack, with recycled criticisms, the man they had already attacked numerous times. The work they did, besides being a tedious effort, seems in vain, as it contributes absolutely nothing new. In fact, it only generates three things: that Tucker's haters hate him more; that his fans increase their support; finally, a whirlwind of new criticisms of the newspaper for its obsession with the most influential conservatives in the country.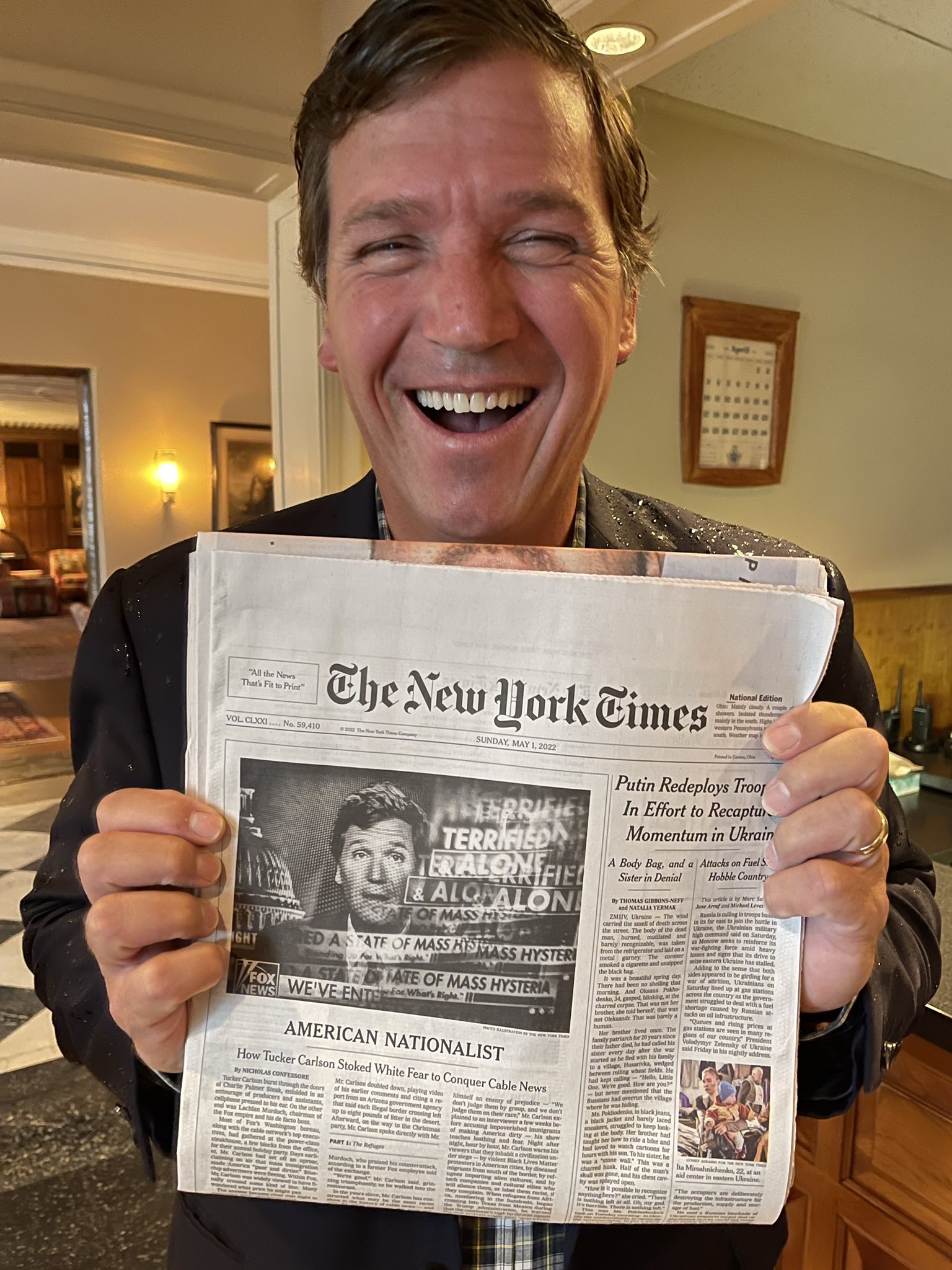 After the New York Times attacked Tucker, the criticism didn't stop
The NYT did not fare well at all against Tucker Carlson. First, they gave him barbaric exposure that probably no other TV show had in the entire history of the American press. Second, they exposed themselves to easy criticism from the conservative world.
"The New York Times traced Tucker Carlson's ancestors all the way back to 1850 and assigned 9 reporters to watch every episode of his show in order to smear him as a racist but couldn't even be bothered to ask Hunter Biden if he ever forgot his laptop at a repair shop," wrote, for example, user Greg Price, in a tweet that already has nearly 54,000 likes.
"The New York Times spent thousands and thousands of words and dollars to uncover the truth about Tucker Carlson: that he uses his platform to talk about the class divide and immigration depressing working class wages, views any Democrat would have proudly endorsed 15 years ago," said Batya Ungar-Sargon, deputy opinion editor at Newsweek.
Matthew Kolken, an immigration attorney, wrote another of the viral tweets regarding the issue, "When The New York Times calls someone like Tucker Carlson racist you can rest assured that he is saying something objectively truthful that undermines their primary agenda to elect Democrats."
The criticism against the Times was massive. Journalists, lawyers, people involved in politics, workers, and Americans in general. Why? Because the New York Times did nothing but demonstrate its disengagement with reality.
Today it is attacking Tucker without restraint, yesterday it was Trump and tomorrow it will surely be DeSantis. Each of them probably deserves journalistic criticism, of course, but what the New York paper, once the benchmark of global journalism, is doing is nothing more than a simple smear campaign to try to undermine and muzzle every successful conservative.
Emmanuel Alejandro Rondón is a journalist at El American specializing in the areas of American politics and media analysis // Emmanuel Alejandro Rondón es periodista de El American especializado en las áreas de política americana y análisis de medios de comunicación.
Contacto: [email protected]