Leer en Español
The night has come for Andrew Cuomo, governor of New York. The Democrat is living his most complex hours in the political world since he has been in the ring. Today, August 3, the official report of New York Attorney General Letitia James was presented, confirming that Cuomo sexually harassed almost a dozen women. In the wake of this report, U.S. President Joe Biden prepared a press conference and called on the Democratic governor to resign from office.
"I think he should resign," Biden told reporters present. Further, when asked if the governor should be impeached if he does not want to resign, Biden rejected the idea at first and then said, "I understand the state legislature may decide to impeach, I do not know that for a fact."
Biden is not the only Democrat to let go of the New York governor's hand. Nancy Pelosi, Speaker of the House of Representatives, also called on Cuomo to leave office. Democratic Senators Chuck Schumer and Kirsten Gillibrand of New York followed suit.
State Assembly Speaker Carl Heastie, also a Democrat, asserted that Cuomo cannot remain governor after the scandal and that he would do everything possible "to complete the assembly's impeachment inquiry," according to The Associated Press.
Cuomo denies the allegations
The investigation included in total interviews with 179 people and found that Cuomo harassed staff members who were working between 2013 and 2020. Several of the women harassed remain in office. More than 74,000 documents, emails, texts and images were reviewed as evidence, according to the report.
"This is a sad day for New York because independent investigators have concluded that Governor Cuomo sexually harassed multiple women and, in doing so, broke the law," Attorney General James said in a statement to the public. "I am grateful to all the women who came forward to tell their stories in painstaking detail, enabling investigators to get to the truth. No man — no matter how powerful — can be allowed to harass women or violate our human rights laws, period."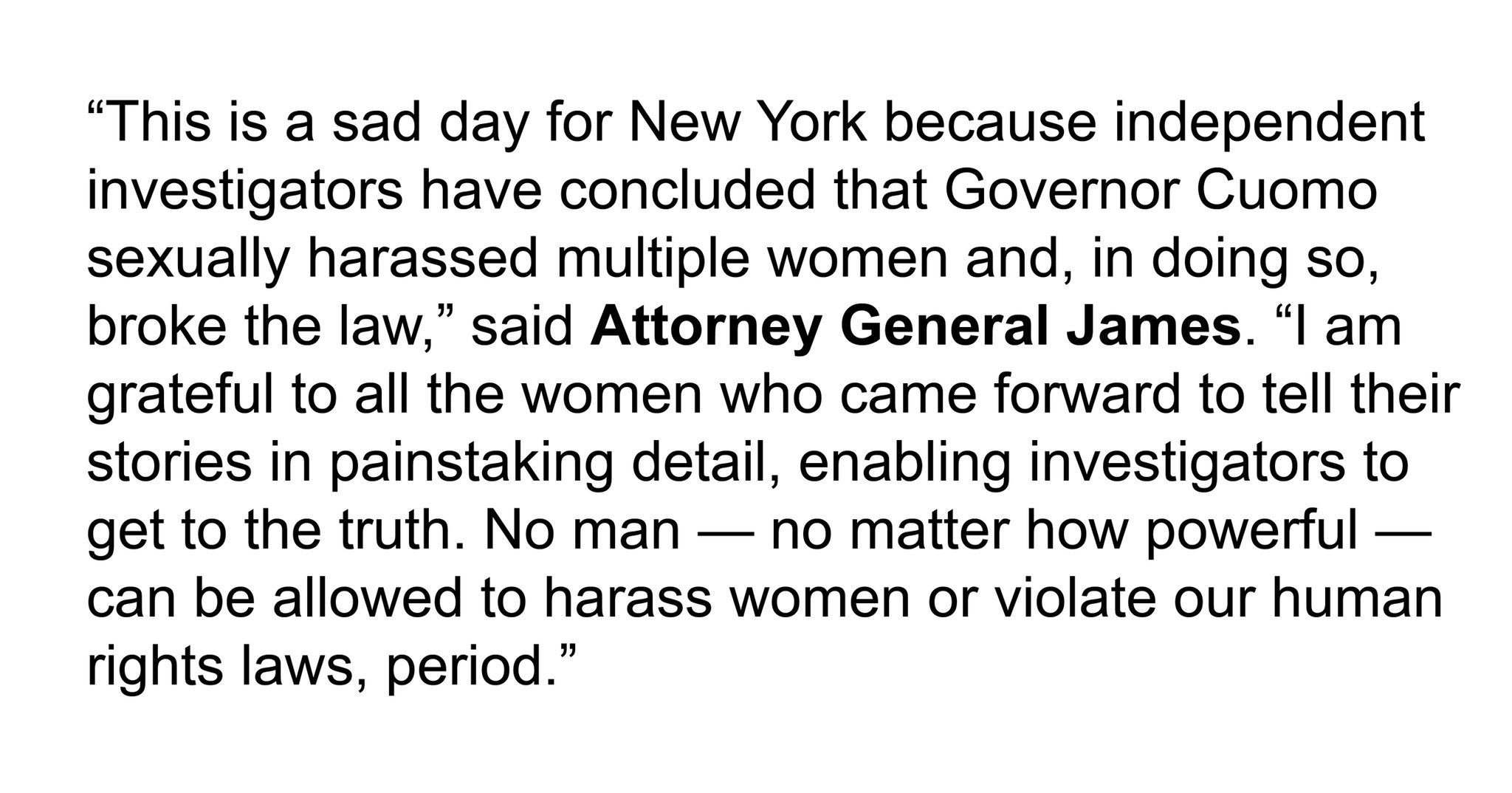 Cuomo, who seems to be running out of Democratic allies, emphatically denied the allegations against him: "the facts are much different than what has been portrayed." The governor used slides where he was shown kissing various people on different parts of the body — such as hands and foreheads — explaining that this is not harassment. Some people criticized Cuomo's explanation saying it wasn't proof that he didn't harass his staff.
"A slideshow of @NYGovCuomo kissing people does NOT negate that he sexually harassed his employees," state Sen. Alessandra Biaggi tweeted.
Cuomo said, "I never touched anyone inappropriately, or made inappropriate sexual advances," further maintaining that he is 63 years old and lived "my entire adult life in public view. That is just not who I am and that is now who I have ever been. It's important to me that you fully understand that."
Emmanuel Alejandro Rondón is a journalist at El American specializing in the areas of American politics and media analysis // Emmanuel Alejandro Rondón es periodista de El American especializado en las áreas de política americana y análisis de medios de comunicación.
Contacto: [email protected]